Iraqi Mung Beans and Rice - Mash M'tubuq
Hudakore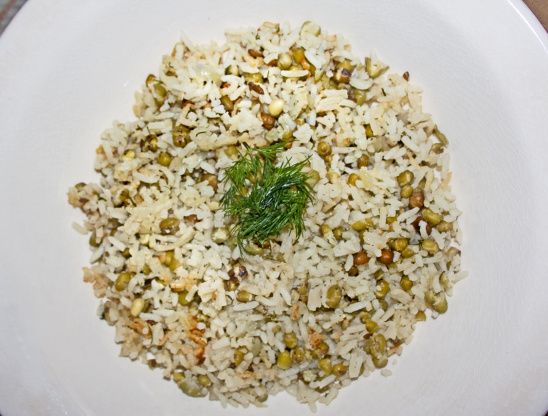 The recipe I have is called mash m'tubuq or layered mung beans and rice in English. Mung beans are commonly known as bean sprouts in Chinese food but in this case, they're not sprouted first. I make it quite often and is a high source of protein though I make it w/o meat (meat can be used and should be lamb). This is my recipe but, since I've never really measured, the amounts are approximate and I use a rice cooker but it's not necessary, just convenient:

This recipe couldn't have been be simpler to make but the results tasted so wonderful. Since I rely on my trusty rice cooker, I basically just cooked the mung beans and rice separately and layered them together, then baked them in the oven for a while to allow the flavors to marry. The only other thing I did differently was to add a lot more dill to the rice and it added such an outstanding flavor to the dish. This dish was a huge hit in our household and will be made again and again! Thanks so much for posting! :)
118.29-177.44

ml dry mung beans, soaked overnight

236.59

ml rice

14.79-22.18

ml fresh dill, chopped

1

medium onion, chopped

29.58-44.37

ml oil

4.92-7.39

ml salt (to taste)
plain yogurt (optional, for serving)
date molasses (dibis, optional for serving)
If using a rice cooker, measure the amount of water for the rice only. Otherwise, mix all ingredients together and cover with water that measures about the width of a finger above the rice line. Cover, bring to a boil, lower heat and allow to steam for about 1/2 hour. You can check the rice and beans for doneness.
Traditionally, when the rice is half cooked, it's divided in half, the mung beans and onions are laid on the bottom half of the rice in the pan and the rest of the rice is then laid on top (hence "m'tubuq" meaning "layered". Cover again and continue to steam.
When done, it can be served with plain yogurt or date syrup (dibbis). I prefer nice tart yogurt.