Iranian Sugar Pickled Garlic
Rita1652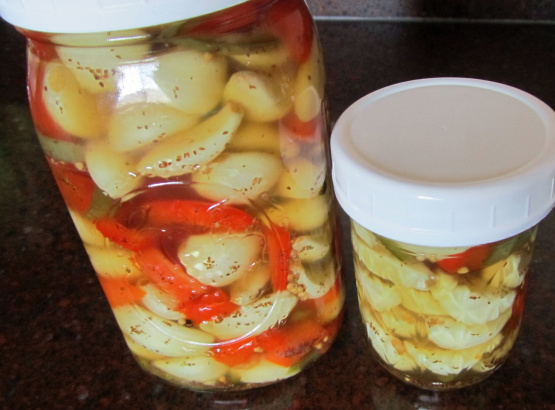 Serve as an accompaniment, add to wraps and salads, add to a cheese platter or antipasto platter. I have made a few changes, basically combining several different recipes.

I'll be back to post stars after the 3 weeks. I did use whole yellow mustard seed. Three jalapenos. The red bell came to one cup. Garlic came to 2-3 cups. Making me wonder if the amount is wrong because the recipe states it makes 1 pint=2 cups. Mine made 1 quart and 1 pint worth. Sure looks pretty. Made for http://www.food.com/bb/viewtopic.zsp?p=5895145#5895145 My Food Odyssey ~ May and June 2013<br/>Im back sorry Im late. The garlic is very good. I did taste as it infused and did find it does need a couple weeks for best flavor. Thanks Sharon
Place garlic cloves in a medium bowl, first cutting the large cloves in half. Mix in the red bell pepper.
In a large saucepan over medium high heat, place the vinegar and white sugar. Place ground dry mustard and celery seed in the liquid mixture. Add salt and peppercorns. Bring to a boil. Boil 5 minutes. Stir in garlic and peppers. Continue boiling 5 minutes. Remove from heat.
Place garlic and peppers in sterile container to within 1 inch of the top. Fill with remaining liquid to within 1/4 inch from the top. Seal and store in the refrigerator approximately three weeks before serving.
Note:.
If you blanch the garlic you won't have to wait the whole three weeks.