Iowa Ham and Corn Chowder
DuChick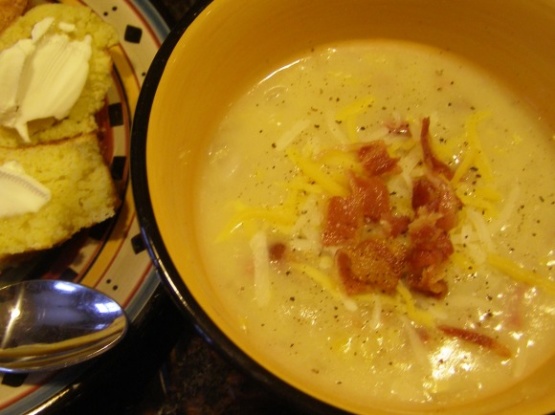 Ham and corn are staples here in Iowa. This lovely chowder knows how to combine both for a hearty, comforting meal.

With a few additions, this very simple to throw together Ham & Corn Chowder is exceptional! To the ingredients listed I added 1 can of corn niblets, about 5 slices of Swiss Cheese, some fresh chopped chives and some salt. I did not have the crumbled cooked bacon, but the addition would have been another winner. I am so glad you shared this recipe with us, DuChick! Thank you : ) This recipe is so simple, I am sure to use it whenever I have leftover ham.
Combine onion, water, 1/2 cup chicken broth and potatoes in a large saucepan.
Cook over medium heat about 10 minutes, or until potatoes are tender.
Use a spoon or masher to crush potatoes.
Combine margarine and flour; stir into potato mixture.
Blend in remaining broth, stirring until thickened.
Stir in corn, milk, ham and pepper.
Cook on low heat until chowder is hot.
Top individual servings with desired garnishes.