Internal Detox for Glowing Skin
Rita1652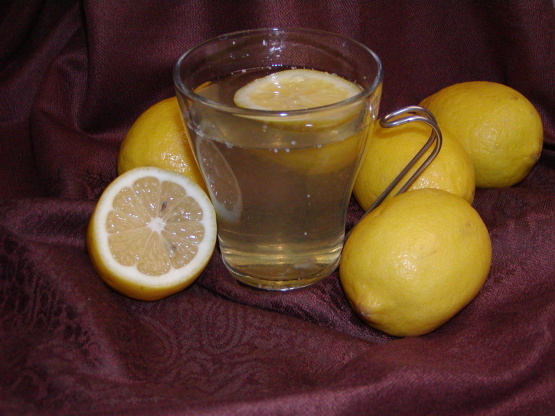 This is a great, simple drink to detox impurities from your body. It cleanses your body from the inside out. Extremely easy to drink too. Have one first thing in the morning, and one before bed. You will see the difference within a week. Try keeping this up for 1 week every month. If you can drink this everyday, it would be WONDERFUL.

Totally 5 stars!!! I love to combine this with recipe#422807 for wonderful skin. I also like to add freshly grated ginger for tummy aches or two garlic chunks for colds. (I take the garlic out after 4 minutes) This tastes very good and definitely has benefits for the look of the skin over time as it cleans the liver. Like other reviewers I feel a need to stress the importance of using a good quality local organic honey, ie not from the regular grocers! The best honey is local to wherever we live because it helps with allergies and organic without additives. I do add more honey per preference and leave about 10 minutes with a small plate over top to keep hot and I find it has more lemon flavour which we like. I was originally debating 4 stars because I had a regular non-local honey to use. I find it doesn't taste as good as the local organic ones and more than once I felt it gives me a slight allergic reaction (non-local honey that is). Also the quality of water used is important as well. City treated water with tons of chemicals and hormones is a NO-NO for your health. I had used distilled water and would have preferred spring water. Since then I only use spring water. I never use a 1 inch slice of lemon as that is too thick. I tried it that way and it wasn't as good plus it wastes the lemon. I use about 1/4 inch slice. Oh and don't forget to wash the lemon before cutting it. A definite make over and over drink. Made for Comfort Cafe - Snow Queens Round 01/10.
Add honey to the boiling mug of water, stir till completely dissolved.
Add the slice of lemon and allow it to brew for 5 minutes, stirring occasionally.
Sit back and enjoy the drink.