Intense Peanut Butter Cupcakes
Noo8820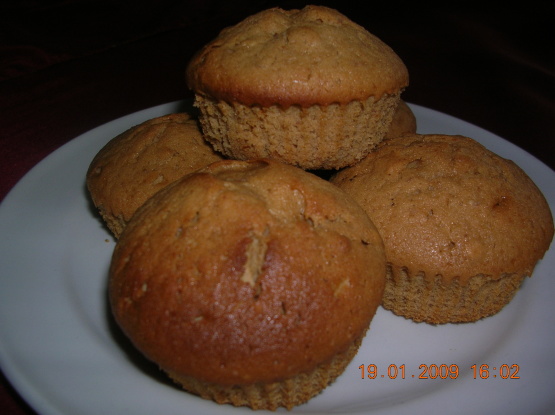 To satisfy your peanut butter cravings, give these wonderful peanut butter cupcakes a try! Feel free to add semi-sweet chocolate chips or chopped up Reese' Peanut Butter Cups and/or top with your favorite chocolate frosting to make it your own! I discovered this recipe on Allrecipes.

A very quick and easy cupcake that tastes good too.I used crunchy peanut butter in mine,and a mixture of light and dark sugar (only as I didn't quite have enough light!).I definately think that they would benefit from the addition of some chocolate chips-I think they would be nigh on perfect then!! Thanks for posting Bev,we enjoyed them .Made for Newest Zaar.
Preheat the oven to 350°F
Line a cupcake pan with paper liners, or grease and flour cups.
In a large bowl, blend together brown sugar, shortening and peanut butter until light and fluffy.
Add the eggs one at a time and beat until blended, then stir in the vanilla.
In another bowl, combine the flour, cream of tartar, baking soda and salt; stir into the batter alternately with the milk.
Spoon into the prepared muffin cups.
Bake in oven for 15-20 minutes , or until the top of the cupcakes spring back when lightly pressed.
Cool in the pan for at least 10 minutes before removing to a wire rack to cool completely.
Frost with your favorite frosting in desired.