PaulaG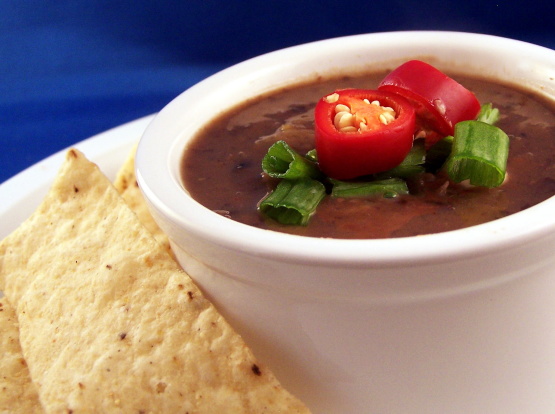 really quick, really easy. GREAT source of fiber and spicy to boot!
Top Review by PaulaG
I followed Heather'sKitchen and made this in the crockpot. The recipe was reduced to 4 servings and in place of the water, I used low-sodium chicken stock. This had a nice kick from the cayenne and red pepper flakes. If I were to make it again, I think I would try adding some Mexican oregano and cumin for additional flavor. *PAC September 2007*
mix 7 cups of water and black beans and set to boil on medium heat.
sautee onions, garlic, cayenne, and crushed red pepper in olive oil until onions are soft.
add onion mixture to the beans and water and stir. boil for 15 minutes.
add chopped green bell pepper and lower heat to simmer for 20 minutes.
allow to cool for 15-20 minutes.
pour half of the mixture into a blender and puree.
add to pot and reheat until ready to serve.
Good with crackers, whole wheat toast, and pitas.