Instant Hot Chocolate Mix
kaurorac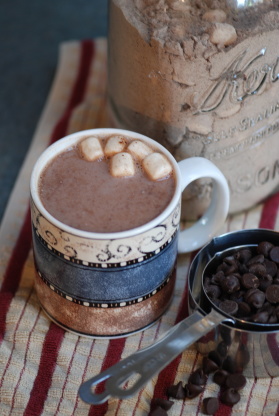 I like to add this to my "Christmas Sampler Basket" I give as gifts to friends at Christmas.

This was a great and very easy recipe! I used leftover chocolate chips, butterscotch chips, vanilla chips, and peanut butter chips all together and it was excellent flavor enjoyed by all. I can't wait to try it with just the individual chips alone. One awesome recipe! Thanks for posting.
2 1⁄2 cups semisweet chocolate morsels or 2 1⁄2 cups mint chocolate chips or 2 1⁄2 cups butterscotch chips or 2 1⁄2 cups milk chocolate chips
1 1⁄2 cups mini marshmallows
Place half the milk and chips in a food processor and whirl until finely ground-you may need to scrape the sides once or twice, and don't whirl past finely ground or your going to get clumps.
Repeat.
Put all ingredients in a large bowl and mix well.
Put in any size jar you want and attach: To make 1 cup place 3 heaping Tablespoons of mix in a mug, add 3/4 cup boiling water and stir.