flower7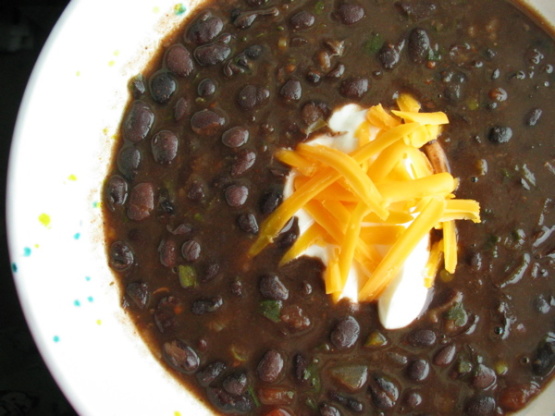 Recipe out of newspaper. I tend to add more cilantro, chili pepper and salsa for a spicier dish. The longer you cook it, the better the flavors meld. It was originally a vegetarian recipe that I added hamburger to so could easily be converted back! It's my dad's single favorite meal with some nice crusty bread or tortillas.

My daughter made this for Christmas Eve dinner in the crockpot. It simmered all day and tasted fantastic - didn't change a thing.
If using beef, brown and drain fat.
Add beans, onions, chili powder, salsa, broth and cilantro to crockpot or soup pot.
Bring to a boil then reduce heat and stir while mashing some beans.
For soup pot: simmer over medium low heat 30 minutes to an hour.
For crockpot: cook on low for 2-3 hours.
Top with cheese and sour cream when serving.