Syrinx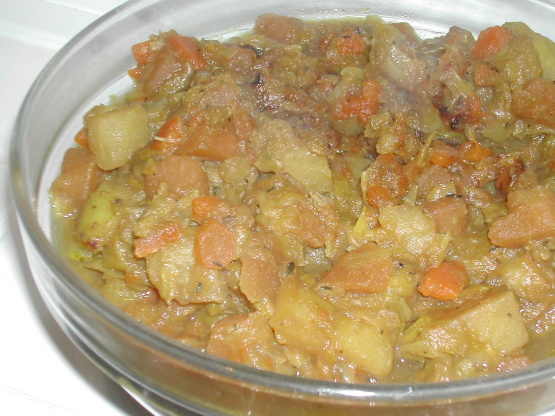 This is beautiful, easy and smells great. Always better the next day.

Top Review by Syrinx
Excellent. I couldn't quite manage the overnight wait, but I made it in the morning to eat in the evening. The flavours noticeably mellowed and mingled over the course of the day, and the stew was much better on reheating. I ran into slight difficulties in that I added too much water (guidance on the quantity needed would have been helpful), so my stew initially was more of a soup - but I simply boiled off the excess at the end of cooking, so it wasn't a problem, although my stew may have ended up mushier than intended. This was a big hit with everyone. And we've got leftovers for tomorrow - yay! Reviewed for Pick A Chef, Fall 2007.
In a large soup pan, brown the onions in the olive oil, if they start to burn add a splah of water. Cook them until lovely and caramelised.
Add the mustard, thyme and garlic and fry for a further few minutes. Do not burn the garlic.
Add the carrots, turnip (or swede) to the pot and fill with water. Bring to the boil, add the vegetable boullian, marmite, bay leaves and cayenne pepper. Cover and allow to simmer heavily for about 45 minutes until the turnip is soft and the broth has reduced.
Add the leeks and potatoes and cook until the potatoes are well cooked and the stew has taken on all the flavours. Usually about 20 to 30 minutes.
Add the turmeric and balsamic vinegar and cook for a further 10 minutes. Season to taste.