Inspired Steakhouse Mushrooms
loof751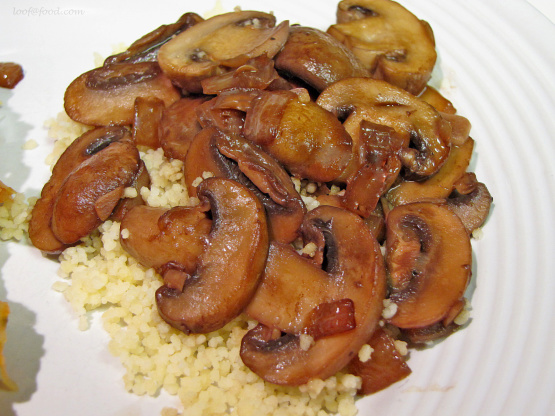 These were born out of a search for a recipe to duplicate the beloved mushrooms from the Longhorn Steakhouse. They are inspired because this is a combination of aspects from NurseDi's recipe 28766 and TheDancingCook's recipe 36869 (thanks to both of you!), along with my own tweaking. In addition to loving the mushrooms prepared this way, I also love the wonderful cooking liquid that is left over -- I keep it in the fridge for use in other dishes (such as soups and pot roasts) once the mushrooms are gone. Recipe is easily multiplied for more servings, and leftovers reheat well.

I used baby portabella mushrooms and sliced them thick. I added sliced shallots and a tbsp of fresh thyme. I sautéed the mushrooms, shallots and thyme in the butter till crisp and then added the wine and broth and reduced. Very yummy but the worstershire sauce made it a little salty, I would add no additional salt.
Melt butter in a 2-quart saucepan.
Saute green onions, diced onions and garlic in butter over a medium flame for about 2 minutes, taking care not to burn the garlic.
Add rest of ingredients to pan and simmer uncovered for at least 20 minutes (longer simmering just means more tender and flavorful mushrooms, so I usually let these go for 30-45 minutes while I prep the rest of dinner.