Inspirational Goat's Cheese on Garlic Ciabatta Toast
alligirl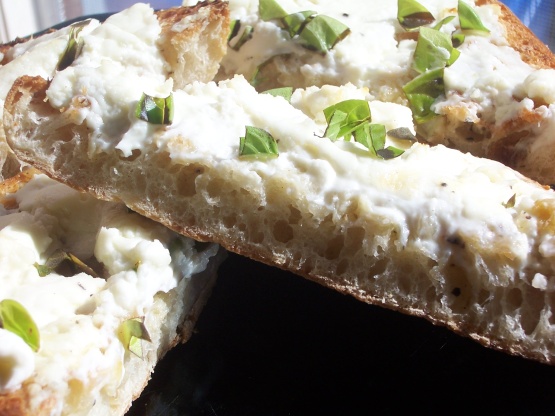 Toasted goat's cheese on toast that has been spread with garlic paste.......and then served on mixed salad leaves - brilliant! I am hooked on Nigel Slater's new programme, "Simple Suppers", where he prepares and cooks food just the way I like it...........fresh, seasonal, unpretentious, flexible and hearty. This is one of Nigel's "Inspirational" recipes that was shown on his first programme. In the absence of ciabatta bread, I would be inclined to use any rustic bread........with lots of body! (Recipe from NIgel Slater's Simple Suppers and the Digin site.)

So delicious! I could eat this all the time! I reduced the recipe for 2, and didn't have any fresh thyme, so I used my fresh basil, which I knew would be a lovely complement. I'm sorry to say we also ate this alone, as a filling snack, but I can definitely see serving this on a bed of mixed greens with the prosciutto accompaniment, or on the side of a lovely dinner salad. Thanks so much for sharing, French Tart! Made for Fall PAC '09.
Preheat the oven to 180C/350F/Gas 4.
Arrange the whole heads of garlic snugly in an oven dish. Drizzle with olive oil and season with thyme, salt and freshly ground black pepper. Roast in the oven for about an hour, or until the garlic is softened.
Squeeze the soft garlic out of its skins into a small dish or bowl. Add enough olive oil to make a thick paste and season, to taste, with salt and freshly ground black pepper.
Slice some goats' cheese thinly. Cut the ciabatta in half and place under the grill to toast then spread the slices with the garlic paste. Place the goats' cheese on top and pop under the grill again until the cheese has melted.
Serve with on a bed of fresh, crisp lettuce leaves. I often add a couple of slices of prosciutto, too.