Inside-Out Golumpki Casserole
loof751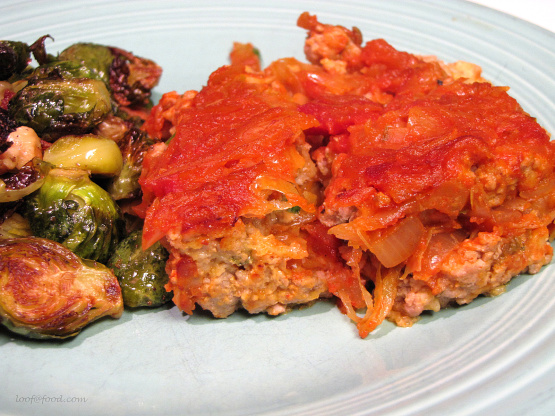 My grandma made the best golumpkis (cabbage rolls). I made a pot of TeresaS's Hungarian Sweet 'n' Sour Cabbage Soup (Hungarian Sweet 'n' Sour Cabbage Soup) and it reminded me of grandma's golumpkis. With the leftover soup, some ground turkey, and a few other odds and ends I put together this easy and tasty casserole.
Spray a 1 1/2 quart casserole dish with cooking spray.
Brown the ground turkey until no longer pink and cooked through. Let cool for a few minutes.
Add the eggs, garlic powder, salt, pepper, and parsley to the cooked meat and mix until well combined.
Press half of the meat mixture into the bottom of the prepared casserole dish. Spread 1 1/2 cups of the soup over the meat mixture. Cover the soup layer with the remaining meat mixture, pressing lightly. Spread the remaining 1/2 cup of soup over the meat.
Bake at 350 degrees for 30 minutes,.