Inside-Out Chicken Cordon Blue
BecR2400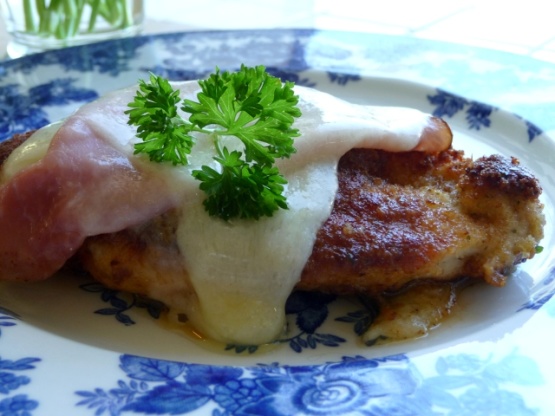 I like making the chicken this way because it seems much quicker and easier than the traditional way. I can get this on the table in no time. I usually serve this with garlic mashed potatoes and fried string beans.

I liked this recipe a lot but I did have a few problems. I think my breasts must have been larger than most of the other reviewers........even though I cut them in half they took more than 5 minutes per side to cook. I also needed more butter and olive oil. Since they weren't done and I couldn't fit them all in the pan in one layer, I stuck them in a 400 degree oven for 5-7 minutes, then topped with ham and cheese and then back in the oven for a minute or two to melt. I did love the finished product as I love chicken cordon bleu but find it too much work to make. Thanks for posting. Made for Please Review My Recpe cooking tag game.
Put the breadcrumbs, salt and pepper in a plastic bag and shake to blend.
Heat the butter and oil in a large skillet over medium-high heat.
Slice the chicken breasts in half to make them thinner and drop into bread crumbs. Shake to coat and place in the hot skillet. Cook until lightly browned on the first side, about 5 minutes or so. Turn and brown the other side, about 5 minutes or so.
Turn the chicken back over to the first side and place the ham evenly over the chicken pieces. Top each one with a slice of swiss (fold it to fit).
Cover and cook until ham heats up and cheese is melted, about 3 minutes.