Bergy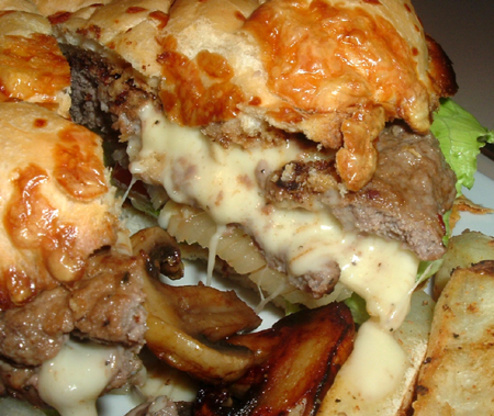 Why put the cheese on top of the burger when half of it just melts off--Instead, form the burger around the cheese so you can char the meat and safeguard the more delicate flavors. Use any mixture of hard or semihard cheeses-Emmentaler and Gouda or Asiago and Parmigiano-Reggiano also pair well.

These are very good burgers! I couldn't believe how moist and juicy the meat remained even though I had to end up cooking them in a skillet. The combination of the sauces, spice, and cheese made for a very flavorful and delicious burger. I used a 'casserole' blend of shredded cheese which included Cheddar, American, Monterey Jack & Mozzarella and it added a good flavor. My BF is very picky when it comes to his burgers and he was disappointed that I didn't make more so he could have leftovers!
Preheat grill to medium-high or preheat broiler.
Combine cheeses & set aside.
Using hands, mix meat , sauces, & spices in a large bowl. Shape into 8 thin patties. Pile about 2 tablespoons of cheese on 4 patties, leaving 1/2" clear edges. Layer another pattie on top. Press edges together to seal cheese inside.
Spray paper towl with cooking spray & wipe on grill.
To grill: Grill patties over medium-high heat, 4-6 minutes per side (till cooked through) then remove from heat & let stand 5 minutes before serving.