lets.eat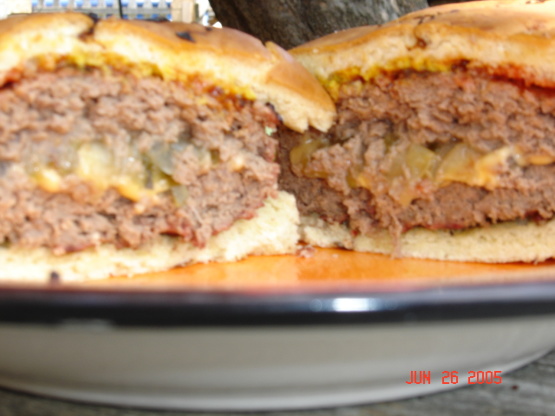 From a 1999 issue of Southern Living Magazine

We loved this recipe, I really wanted to do something different and this was perfect! I had my brother and his girlfriend over and they were both impressed. You could really get creative with this recipe too and add different stuff to the insides like mushrooms or bacon. I have to say though, I only used about half of the recommended onions. I just thought that what was suggested would be way too much. Thanks for this great recipe!
Combine first 4 ingredients in a large bowl; shape into 12 patties. Set aside.
Saute onion in a large nonstick skillet coated with cooking spray 10 minutes or until tender. Top 6 patties with onion, cheese, and relish; cover with remaining 6 patties, pressing edges together to seal. Cook patties on grill or skillet around 6 minutes on each side or until no longer pink. Serve in buns with desired toppings.