Dissie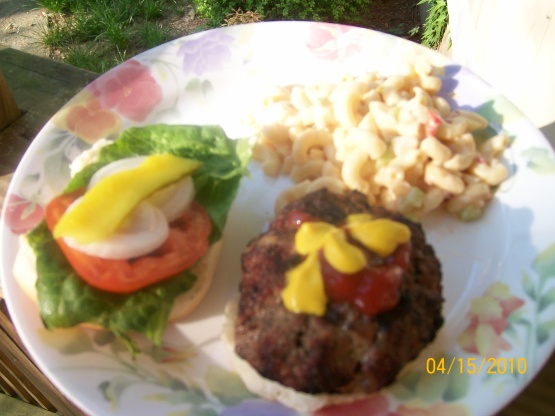 I came across this recipe idea when my husband & I watched "Man vs. Food" on the Travel Channel about these two restaurants in Minnesota. Anyways, it sounded so good & I was standing in my kitchen with all the ingredients so I tried to make it myself. It turned out very delicious!!!

Simple burgers with big flavor! I did add a few shakes of lemon pepper and used sliced sharp cheddar cheese instead of american. All the toppings we enjoy, juicy burgers, with corn on the cob on the side equals a fantastic meal. Will make these burgers again! Made and reviewed for PAC Spring 2013.
Heat grill to med-high heat. (We have a Jenn-Air built-in grill on our stove- great for rainy day grilling!)
Pat ground chuck into 8 1/4-inch patties.
Place on top of one patty 4 quarters of sliced cheese.
Top with another patty & crimp the edges so the cheese doesn't melt out while cooking.
Repeat Steps 3 & 4.
Place on grill & cook 3-4 minutes, flip & cook 3-4 minutes on other side. (If you want the cool grill marks, cook for 1-2 minutes, then do a quarter turn.).
Place burger on bun & top wih your favorite burger toppings & enjoy.