Inside and out Grilled Cheese
Crispy cheese on the outside, gooey cheese on the inside, hot and delicious - what's not to love? Adapted from a recipe by Food Wishes.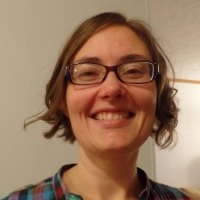 Yum! I loved the contrast between gooey and crisp in this sandwich. I made a couple changes to accommodate what I had on hand. I used wheat bread as we don't buy white. And I used a slice of cheese inside instead of shredded because I wasn't going to have enough shredded for 2 sandwiches and DH wanted one too. This is almost a five star recipe. The only things that knock it down a peg are that it's a lot of effort when making a traditional grill cheese is so easy and a bunch of non-melted cheese is lost when flipping the sandwich. But otherwise this is delicious! Thanks!
Melt 1 tbsp butter in a non-stick skillet over medium-low heat. Place both slices of bread in the melted butter.
Top one slice with 6 tbsp of grated cheese and flip the second slice on top. Immediately top with 1 tbsp grated cheese. Add remaining butter to empty side of pan. When butter has melted, flip sandwich cheese side down in the melted butter. Top with remaining cheese.
When the first side is browned and crispy, 3-4 minutes, flip the sandwich. Cook until the second side is also crispy and brown, 2-3 minutes.
Cool 3-4 minutes, cut in half and serve.