[ Insert Fruit Here ] Puff Pancake
karen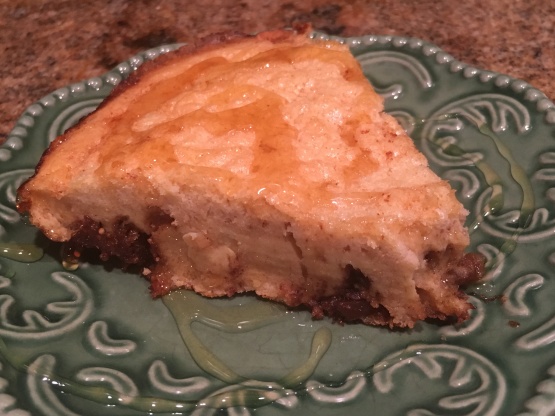 Pears, plums, berries, under-ripe bananas, etc. can be substituted for the apples-depending on the season. Muscovado replaced plain ol' brown sugar, honey for maple syrup, heavy cream for milk, one teaspoon ground cinnamon in original recipe was replaced with Mixed Spice - Traditional Old Fashioned English Pudding Spice-in my lame attempt to "anglicize" the recipe. For our small family, this recipe was cut in half (although with the same amount of fruit) and I also baked the pancake in an eight inch cast iron skillet instead of a pie pan. Puffy pancake pulls double duty as both a breakfast entree and dessert. Local recipe.

Top Review by karen
I just made this, using figs instead of apples. Otherwise followed the recipe exactly. I shredded the figs in the food processor, used cinnamon, brown sugar and white wheat flour. I agree with other reviewers and would double the fruit next time. I used 4 oz (13 figs)...next time would do double that. Easy and not too sweet dessert that came together in minutes. I actually pulled it out after 16 minutes...and that was plenty of time.
Note: the pancake will not puff up high like a Dutch baby does.
Heat oven to 425 degrees.
Place the butter, brown sugar and cinnamon in an 8-inch cast iron skillet or a 9-inch glass pie plate. Heat in the oven until the butter is melted and bubbly — 5 minutes.
Remove from the oven, stir well and mix in the apple slices.
Return to the oven and bake for 2 minutes.
Meanwhile, combine the eggs, milk, flour and salt in a blender or food processor and process until frothy — 1 minute. Pour over the apple mixture.
Bake until the cake is puffed and the center is set — 18 to 20 minutes.