Insanely Hot South Indian Green Chili Chutney
daisy M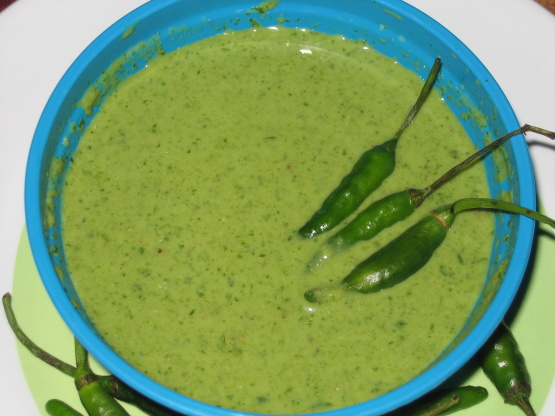 It is a fiery hot condiment from South India. Spice lovers have it with dosas or idlis. It is reaallly hot. I know some people who make it without the cilantro- eeks. If you are a chili wuss, do not try this. I eat this if I want an adrenaline rush and it makes my lips burn. But I have it anyway... A thinned down version of this chutney can be used as a marinade for paneer and chicken.
Heat 1/2 tsp oil in a pan.
Add whole chilies and dry tamarind if using.
Saute until chilies and tamarind become slightly charred on outside.
Watch out or cover the pan'coz whole chilies may explode.
Place chilies, tamarind (or tamarind paste or lemon juice), cilantro and salt in a blender.
Blend with little water into a smooth paste.
Transfer to a bowl.
This chutney can be seasoned if desired.
For this, heat 1/2 tsp oil in a saucepan.
Add urad dal and mustard seeds.
Let them splutter and add them to the chutney.
Mix well.
The heat of this chutney can be reduced by mixing in some yogurt as required.
However, the chutney will become more like a sauce.
This thinned down chutney is wonderful as a marinade.
Jalapenos or Thai bird chilies can be used.
If using jalapenos, chop them into large chunks and saute them a little longer to soften their thick skins.
This chutney can be served with idlis or dosas.