teresas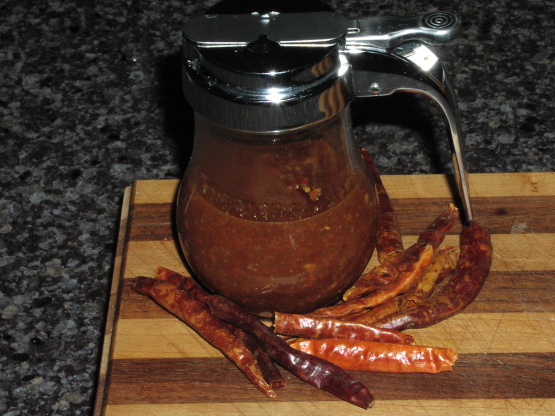 This sauce is really hot, but the sweetness plays off the heat very well. Use as a general condiment like Thai Sriracha sauce.

Wowzers! This stuff is packed full of yummy heat...don't even try it if you can't stand the heat...what is the saying...get out of the kitchen...this is just up our ally...a little dab will do ya!...trust me...I love heat...and this is at the top of our level...great flavor...great heat...great condiment...thanks for posting this...made for Spring PAC 2013 :)
1⁄2 cup small dried hot red chili pepper, stemmed and seeded (even better if you can find them bottled in brine instead of dried)

1

small onion, coarsely chopped

2

garlic cloves, coarsely chopped
1⁄3 cup sugar
1⁄4 cup lemon juice
1⁄4 cup water

1

teaspoon salt (omit if you use brined chilies)
Combine all ingredients in a blender.
Blend at high speed until ingredients are well chopped and blended.
Pour mixture into a saucepan and bring to a boil, stirring frequently.
Reduce heat and simmer, stirring frequently, until sauce is reduced by half, around 10-15 minutes. Sauce should be thick and uniform.
Pour into a bowl and cool to room temperature.
Enjoy!