flower7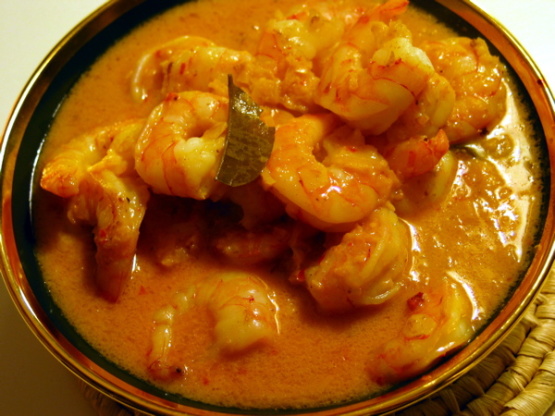 Its about time that I share this recipe here with you. I always include this when making a Rijsttafel (an Indonesian dinner consisting of many different dishes) This is originally intended for mussels but I prefer the prawns. The sauce can be made in advance for up to 2 days, keep in the fridge until needed

this was quick, easy and delicious. i did have to make a few substituions for ingredients. i used the macadamias suggested. i also subbed ginger for the galangal and lime zest for the leaves. i served this over jasmati rice and it was wonderful.
Put the following into your food-processor: onion, sambal, garlic, cumin, coriander, candle nuts, fish paste, galangal and process until you have a paste.
Heat the oil and fry the paste for approx 5 minutes, then add the lime leaves and the bay leaves.
Add the coconut milk and bring to the boil, then simmer for 15-20 minutes.
Add the prawns and cook until they turn pink, do not overcook them.
Taste the sauce and add salt and sugar to your liking.