CoffeeB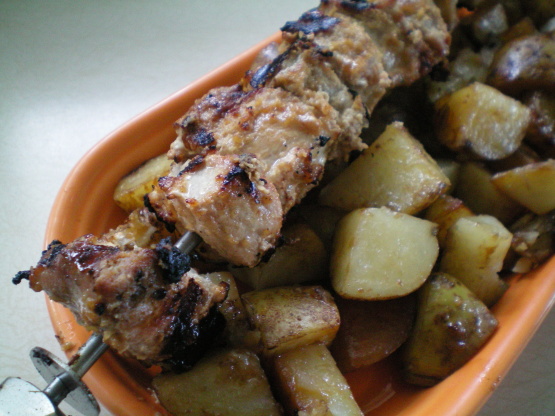 I got this recipe a couple of years ago and it is a family favorite. It says to grill but I just cook it up in a pan and serve over rice. :)

Top Review by 16Paws
The only change I made to this was to use one cup of Skippy chunky peanut butter as I didn't have regular peanuts. Whirled it all up in the food processer and let my pork loin cubes marinate all day. This was soooo good. DH loved it and when I asked him what he liked best about it he said: It is very flavorful without any one flavor standing out, it all blends together. Thank you for sharing.
In a food processor, process garlic, green onions, ginger, peanuts, lemon juice, honey, soy sauce, coriander, and red pepper flakes. Puree until almost smooth. Pour in broth and butter and mix again.
Place pork cubes in large resealable bag and pour mixture over meat. Marinate in the fridge for 6 hours or overnight.
Preheat grill to medium heat. Remove pork cubes from bag and thread onto skewers. In small saucepan, boil the marinade for 5 minutes. Reserve a small amount for basting and set the remainder aside to serve as a dipping sauce.
Lightly oil preheated grill. Grill for 10-15 minutes, or until well-browned, turning and brushing frequently with cooked marinade. Serve with dipping sauce.