3 Reviews
Most Helpful
Newest
Highest Rating
My wife is downstairs saying 'wom, wow, wow'. She LOVES this dish. I liked it too. The peanut sauce seemed runny to me, but after refrigeration it was great! 5 stars! My wife said that this is exactly what she thinks of when she thinks of peanut suace. High praise indeed!
Made for Photo Tag Spring 2013. The chicken was nice and moist, loved the flavours. Cooked on a grill pan on the stove top. I made the sauce and served with. I didn't have cider vinegar so used rice wine vinegar. Sauce was a little tangy for me personally but both housemates loved it. I used only 2 chicken breasts, but kept the sauce amounts the same. I got 7 skewers, so I fed three people with it.<br/><br/>Thanks for a great dinner!

Absolutely delicious chicken! Loved the marinade and it produced such a moist flavorful chicken. We served it with the recommended peanut sauce and DH raved about it. The chicken is also just as flavorful and delicious without the sauce. We cooked these chicken skewers on our indoor grill and they turned out perfectly. Will definitely make these chicken skewers again. Made for Make My Recipe Reunion tag, December, 2012.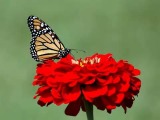 Indonesian Peanut Chicken