Indonesian Marbled Hard Boiled Eggs or Telur Pindang
awalde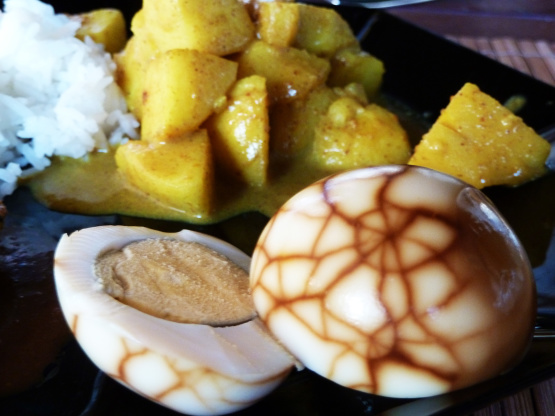 Impress your friends with these beautiful spiced hard boiled eggs! Feel free to change or substitute ingredients depending on what is available, and on desired intensity of color. With food coloring this should work as well, but I did not try it!

Top Review by Debbwl
Very impressive! Oh these are so fun to make and turn out so nicely! Worried for nothing about what they would taste like or if the family would like them as they gobbled them right up. And to my delight the eggs were nice and tender; the long low simmer did Not overcook them. I did work with what we had on hand using salt, bay leaves, fresh ginger, cumin, coriander seeds and turmeric, would love to try with some red onion as I think the red would be quite pretty. Did not use guava leaves as I have never seen them here even in the specialty stores. You know I will be making these again. Thanks so much for the post.
4

eggs

3

teaspoons salt

4

guava, leaves (if available)

2

tablespoons ginger, grated or 2 tablespoons lemongrass, chopped

2

red onions, only red peel of (optional for more reddish color)
1⁄2 teaspoon cumin, ground
1⁄2 teaspoon coriander, ground

1

teaspoon turmeric, ground (optional)

3

black tea bags
Wash your eggs!
Combine all ingredients (without black tea bags) in a saucepan.
Bring slowly to a boil with enogh water to cover them.
After 10 minutes lift the eggs out and place in cold water.
When eggs are cool enough to handle, gently crack the shells with the back of a spoon until the entire shell is a network of cracks, do not peel!
Return eggs in the pot; add teabags.
Continue to boil until almost all the water has evaporated and eggs are dark brown. This step takes about 2-3 hours. Stir occasionally during cooking time!
Peel eggs and, if possible, serve with Indonesian dishes.