Indonesian/Malaysian Street Noodles
PanNan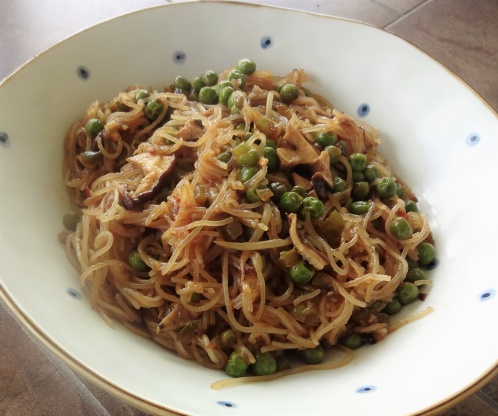 My boyfriend from south east asia said this is closer to traditional than most of the yellow curry versions we see in the US. No meat in this one but I'm sure you could add! Feel free to mix up the veggies too. The first time I made this, I used broccoli, snap peas, and baby corn instead. Although, the peppers are traditional. Adapted from Pinch of Yum
Soak the rice noodles in a large bowl of hot water for a few minutes. Drain, rinse with cold water and set aside.
Mix the ingredients for the sauce in a small bowl and set aside.
Heat the oil in a large skillet over high heat. Add the peppers, shallors, and bean sprouts, and curry powder. Stir-fry for 5 minutes until shallots are soft. Add the mushrooms and the peas, stir-fry for minutes. The vegetales should be tender-crisp.
Add the noodles to the pan. Add 1/4 cup sauce and stir fry, using tongs to mix the noodles together. After a few minutes, remove from heat and add as much sauce as desired. Top with scallions.