Indonesian Liver ( Beef, Chicken or Pork )
Bergy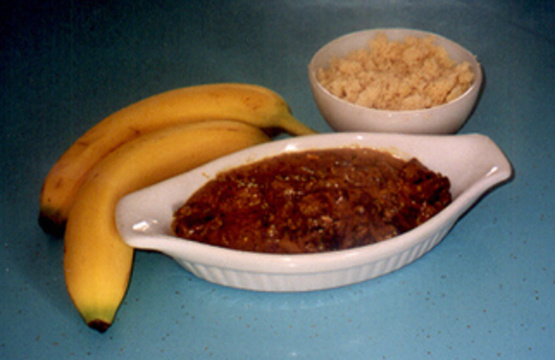 If you read this recipe and think that it is hot you might like to know that the original recipe uses 14 small red peppers! Add more if you like. I only taste the sauce of this, because I don't like liver, and think it is hot enough. If you cannot get the lime leaves the only substitute I know of is lime zest. The flavors do improve if you make it in advance and then reheat.

YUM! I had been craving liver lately and this indonesian recipe was the only was I could get BF to have it (he thought the sauce tasted great and the liver flavour to be not too strong, which is a lot from the liver hater he is...) We used 1 1/2 pound veal liver, 2 cups low fat coconut milk, 3 lime leaves, 1 1/2 tbsp frozen chopped lemongrass. We started with 2 seeded chili peppers in the paste and added a little powdered cayenne pepper at the end to adjust - I just think it's easier to add than to remove... We were too lazy to go to the thai market to get the galangal, so we used altogether a 1 cube inch piece of ginger (the recipe is not very clear about the ginger amount) and dried turmeric. Served it over cooked quinoa (I know, so not authentic, but I love quinoa and it has a greater nutritional value than couscous or rice). Thank you for this unusal and very good recipe!
Clean the liver and chop into chunks of approx 1 inch.
Make the paste; put all the ingredients except for the oil in a blender or food processor and pulse to a paste.
Heat the oil in a large frying pan, add the paste and fry the paste together with the lime leaves and the lemon grass for 2 to 3 minutes Add the liver and fry for another 2 minutes.
Then add the coconut milk, start with 1 ½ cup you can always add more to taste, simmer without covering for about 15 minutes, the sauce should be thick and the liver cooked, watch that you don't over cook the liver Taste for salt and serve this with rice as a main dish or part of an Indonesian Rijsttafel.