Indonesian Lime and Wine Chicken Thighs
Bergy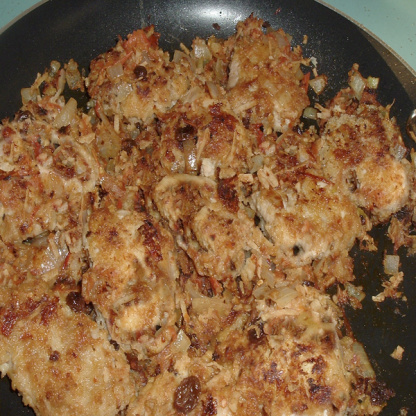 This is a spicy but not too spicy recipe that is charged with flavor. You can increase or decrease the heat by adding more or taking away some of the chile flakes. Do not be put off by a seeminly long list of ingredients most are part of the spice mix and I'll bet you have them already at home. If you want your chicken to stay crisp after cooking it just keep it hot in the oven. I like to return it to the sauce and simmer for 5 minutes keeping the top side of the chicken above the sauce line. Serve with rice or noodles N.B. Panko is a product from Thailand.

Top Review by Ducky
Flavorful, moist chicken and it is all done in one dish! The smell of the sauce while it was cooking is quite enticing. This dish has a fruity, sweet (but not too sweet) taste. I used boneless, skinless chicken breasts and some chili powder since I don't have (and couldn't find at the store) chili flakes. I was confused making the sauce since the ingredients list cardamom but is not in the instructions while the instructions say cloves that isn't in the ingredient list. Thanks for the flavorful recipe.
Pour 1/4 cup of wine over the raisins to plump them.
Whisk the egg and water together.
Mix Panko crumbs with 1 tsp chili.
Dip the cut thighs first in the egg mixture then the crumbs making sure they are well coated, dip twice if necessary.
Heat oil in a large skillet, turn heat to medium and slowly fry the chicken until golden on both side apprx 7 minutes per side - do not burn.
Remove from skillet and keep warm.
In the same pan saute the onions for 5 minutes, add tomatoes continue cooking for a further 5 minutes.
While the onions/tomatoes are cooking mix together: cardamon,lime zest, cinnamon, coriander, finely chopped garlic, 1/2 tsp chili flakes, coconut & brown sugar, mix well.
Add spice mixture to the tomato/onion in the pan.
Add raisins in the wine and the lime juice.
Simmer until the wine has almost evaporated, add remaining 1/4 cup wine, when the sauce is heated you may either return the chicken to the pan and simmer for 5 minutes or place the hot chicken pieces on a platter and surround with the sauce.