Indonesian Grilled Chicken
Leslie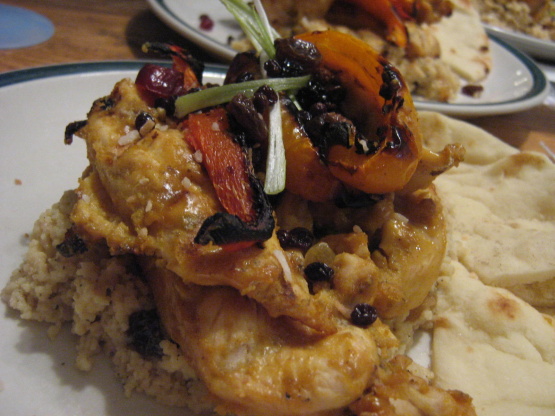 This recipe is from a Betty Crocker cookbooklet that I have had since 1995. I made a few changes. It makes a nice summer meal. The recipe says to serve it with couscous; however, I made Royal Thai Rice and it made for a very colorful meal.

Really good--we liked this a lot. My only problem was that it seemed a little dry. Like another reviewer I wished there had been a sauce to go with it. I ended up making a little more of the marinade and thinning it out some and using that. For flavor though, very good over all--loved the toasted coconut on top!
Put the orange juice, peanut butter and curry powder in blender container; blend until smooth.
Place the chicken strips in a medium bowl, pour the orange juice mixture all and stir to combine.
Cover the chicken and place in refrigerator for 1 hour.
Remove the chicken from the marinade; discarding marinade,.
Spray a grill pan with nonstick cooking spray; place chicken strips on top along with bell pepper strips and cook over medium coals 10 to 15 minutes, turning frequently, until pepper is tender and chicken is no longer pink in center.
Spoon cooked chicken on top of rice and garnish with coconut and raisins.