Indonesian Cucumber Salad
teresas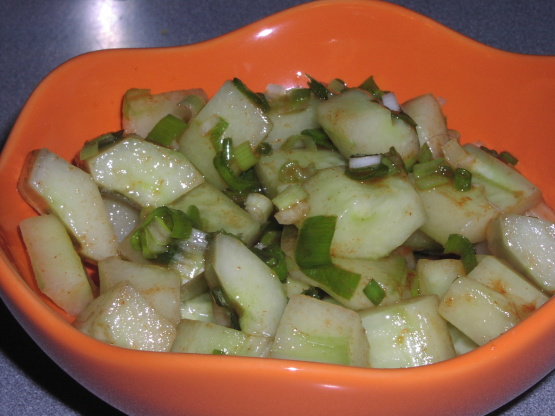 A refreshing salad with a kick, how much of the dressing ingredients you want to add does not just depend on your taste buds but also on the size of the cucumbers.

Yummy, yummy! Nice and spicy. I used brown sugar substitute to keep the sugar down and I thought I still had some chili paste but...no!.. so I used sriracha chili sauce. Now I want to try it with the original ingredient to see which has the best heat and flavor. Another keeper. I loved that it didn't create a bunch of liquid. Made in honor of Pets. She will be greatly missed.
Peel the cucumbers, cut in half and remove the seeds.
Half them again and slice them up in approx 1/2 inch pieces.
Mix with all the other ingredients, cover and put in the fridge for at least an hour.
Take it out of the fridge and taste, if you want to, add more limejuice, sugar or sambal oelek.