GaylaJ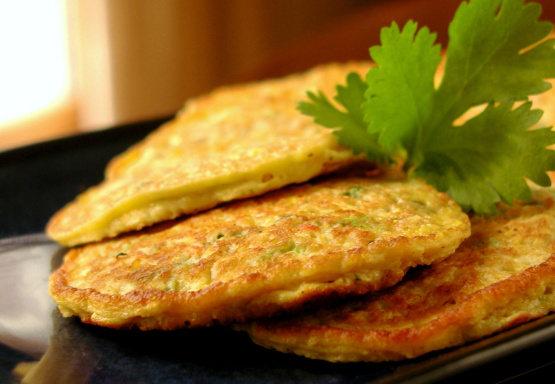 Like porridge and roasted meat, griddle cakes are ancient preparations. Corn griddle cakes are a simple folk food in dozens of cultures. This recipe is from the Posh on Pico cafe in Los Angeles.

Top Review by GaylaJ
These were delicious! I subbed half-and-half for the cream and added extra shrimp (I chopped it in the food processor and used about 3/4 cup). Two large ears of corn yielded exactly 2 cups of kernels. I thought the batter was a bit thin, so I fried a couple of cakes to test and decided to add more flour. We really enjoyed these --thanks for sharing the recipe!
Combine the corn, eggs, flour and cream in a food processor and blend until the corn is finely chopped and appears creamy, scraping down the sides as needed. Remove to a bowl. Add the shrimp, celery, onions, cilantro, garlic, salt and pepper and mix well.
Heat the butter and oil in a large skillet.
For each cake, add a heaping tablespoon of the corn mixture to the skillet. Keep the cakes separated and press to flatten slightly.
Cook over medium heat until golden brown on the bottom, then turn and cook the other side until golden, about 3 minutes total.
Continue until all the cakes are cooked, placing them on a platter and keeping them warm. Serve as an appetizer or side dish, garnished with cilantro leaves, if desired.