Indonesia Inspired Salad Dressing
awalde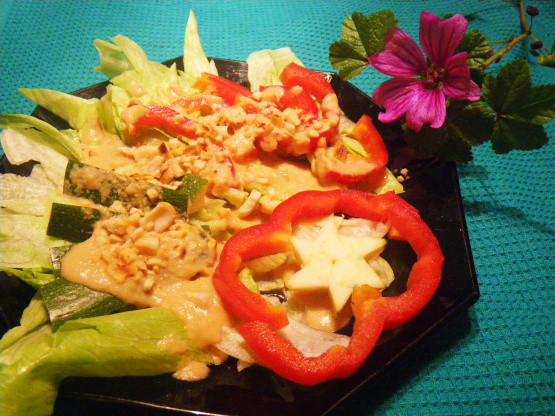 Inspired by the gado gado peanut sauces. You can useit for any salad or cooked, cold vegetables.

Top Review by katew
I think from a personal taste point of view that 4 tblsp soy sauce is way too much and my end result was over salty. I added extra brown sugar to help this little problem I experienced. I liked this dressing but my children didn't. The recipe makes a generous amount. I served it with chicken and salad.
4

tablespoons oil

2 -4

tablespoons light soya sauce (quantity depends on the quality of soya sauce)

1

tablespoon ginger, chopped

2

tablespoons coconut milk, thick

2

tablespoons peanuts, roasted, chrushed (if posssible, roast the peanuts yourself!)

2

teaspoons lemon juice
1⁄2 teaspoon sugar
1⁄2 teaspoon chili, ground

2

tablespoons peanuts, roasted, chrushed (for topping)
Mix all the ingredients (without the peanuts for the topping) with the food processor.
Use as dressing and top with the crushed peanuts left.