Individual Strawberry Cheesecake Tarts
Pneuma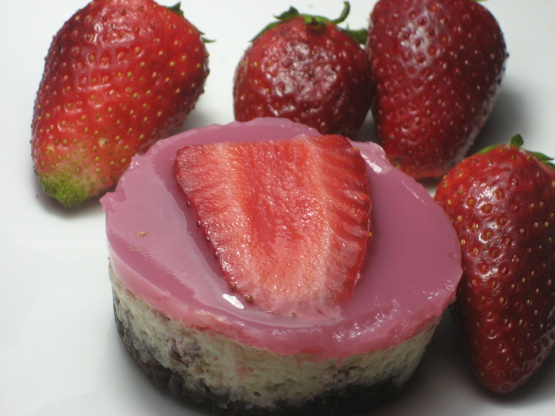 These tasty treats are the perfect end to a great meal. The cheesecake recipe itself is very simple, and the topping and crust are very versatile. Alternatives are listed below. <p> ***NOTE***DO NOT USE reduced fat cream cheese. This recipe doesn't seem to work well unless it's full of fat, full of guilt and full of flavor! ;)

Top Review by Pneuma
These look so nice who would have thought it would be easy to make! I didn't feel guilty at all for having a delectable treat. From the cheesecake to the strawberries, wonderful! I feel like I was eating at a fancy restaurant! This seems versatile too as other fruits can be added and gelatin flavors can be changed corresponding to the fruits. Next time, I won't use silcone pans and follow your suggestion of using paper cups or individual foil tins instead as getting them out from the silicone pan can be a bit challenging. Wonderful recipe once again, HawaiiChef79! Thanks for sharing a keeper! Made for Spring PAC 2009.
For the Crust:.
Preheat the oven to 350 degrees F.
Line 18 regular-sized cupcake cups.
Combine the graham cracker crumbs and macadamia nuts in a bowl.
Add sugar and mix well.
Add butter and mix until everything is well incorporated.
Spoon the mixture into each cupcake liner. (About 1 heaping tablespoon per cup).
Push down on the graham cracker mixture and try to make a flat crust.
Bake in oven for 8 minutes,.
Take out of the oven, and let cool.
For the Cheesecake Filling:.
***NOTE*** Make sure to leave the cream cheese and eggs out until they are at room temperature.
Preheat the oven to 375 degrees F.
Cream together the cream cheese and the sugar until it is smooth.
Add eggs one at a time, until they are well incorporated.
Add vanilla (and lemon juice if you choose to).
Fill each liner 2/3 of the way full.
Bake for about 13-18 minutes. (In my new oven it's 18 minutes, in my old oven it was 13 minute, so, it really depends on your oven).
Place in the refrigerator to allow to cool.
To make the Strawberry topping:.
Soften the unflavored gelatin in the 1 cup plus 2 tablespoons boiling water. Let stand for 5 minutes.
Add the strawberry gelatin.
Set aside.
Cut the strawberries at the widest point so that it will cover as much of the cheesecake top as possible. Alternatively, you can slice the strawberries.
Place the strawberries, upside down, on the tarts.
Spoon the gelatin mixture on top of each strawberry, trying to completely coat each strawberry, and get the topping on the cheesecake itself as well.
Melt the white chocolate in the microwave on low heat. Drizzle over each tart.
Alternatives:.
Using 1 1/2 packages of cream cheese with 1/2 cup pumpkin puree is an interesting fall twist.
Using oreo cookie crumbs as the crust, and mixing in semi-sweet or dark chocolate chips.
You can also use any canned topping, an fruit and jello combo, or just use the fresh fruit by themselves.