Individual Puff Pastry Apple Pies
Izy Hossack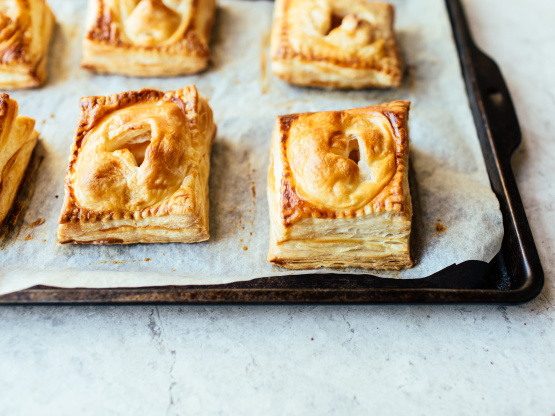 Plump little apple pies made out of puff pastry.This recipe seems so simple, and one to impress and please family and friends alike.I received this recipe from my mom, but I haven't tried it yet, I can't wait go out and buy the puff pastry so I can make it. I hope you enjoy it!

We have made this several times now, and the results are really yummy. The frozen puff pastry I bought recommends baking at 400 and not 350. For me, cooking at 350 for 20 minutes yielded a less puffy and anemic sort of looking pastry much like some of the pastries pictured up to the left. When cooked at 400 for 25 minutes, the pastries rocked!!! Thanks for sharing such a simple and tasty recipe!!!
Thaw puff pastry according to directions on package.
Peel, core and chop apples up coarsely.
Combine apples with sugar, flour, lemon juice, cinnamon and nutmeg.
Heat oven to 350°F.
Flour surface lightly and cut pastry sheet into nine 3x3 squares.
Place approximately 1/4 cup apple mixture on each square and brush edge with beaten egg.
Place second pastry square on the top of the already filled pastry to form a pocket.
Press down border with fingers to seal and then press with fork to decorate the edges.
Make a 1-inch L shape incision into each pie and fold back the pastry flap.
Place on ungreased cookie sheet and give each one an egg wash.
Bake for approximately 20 minutes or until golden.
Enjoy!