Individual Peach Pastries
awalde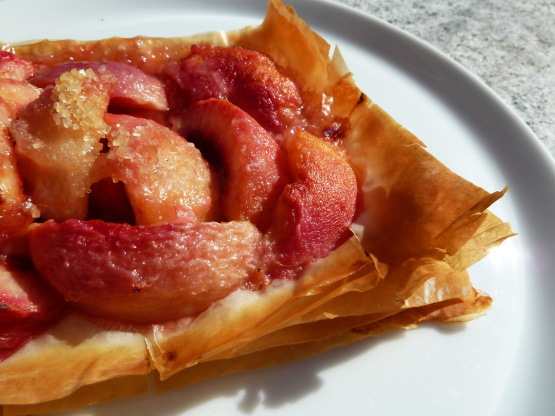 Having phyllo dough in the freezer comes in handy when you need to make dessert on a moment's notice. This peach pastry is a perfect example! Adapted from Martha Stewart's Healthy Quick Cookbook.

Top Review by awalde
It was really a great choice. This dessert is soo easy, needs only few ingredients and the result is awasome!
I prepared this with my "Indian blood peaches" from the garden who are really very tasty.
I can imagine that this would be great with abricot as well!
Thanks a lot for posting this fantastic recipe. Done for PRMR
Preheat the oven to 400*F.
Remove one sheet of phyllo from under the plastic wrap to a clean work surface. Brush it with half of the melted butter. Lay the second phyllo sheet on top and brush with the remaining butter. Cut the phyllo in half lengthwise, then quarter lengthwise, to make 8 rectangles.
Line a baking sheet with parchment paper. Lightly spray parchment paper with cooking spray and place 4 of the rectangles onto the paper. Place the remaining rectangles on top of each, making four 4 4-layered pastries.
Arrange about 10-12 peach slices on each pastry and sprinkle 1 teaspoons brown sugar over each.
Bake 10 minutes. Remove from oven and sprinkle each pastry with an additional teaspoon of brown sugar.
Return to the oven and bake 5-7 minutes more, until the sugar has melted and is bubbly.