Individual Molten Lava Cakes
iashianab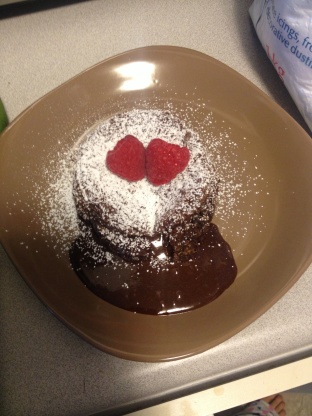 These are so quick and easy. I make them after dinner that way they are nice and gooey. You will need 4 small ramekins. My oven is weird so I cook for maybe 9 minutes I check often to mke sure they are still jiggly. After remving from oven I run a knife around the edges before unmolding. I use a combination of dark and semi sweet chocolate

Very Good & easy! I melted the chocolate & butter in the microwave. Should have watched these closer, they were past gooey at 14 minutes, but they were still good. I added about a 1/2 tsp of vanilla and a dash of salt. Kids loved having their own special dessert.
Position rack in middle of oven and preheat to 450 degrees F. Butter and flour four 4-ounce ramekins.
Melt chocolate with butter. Remove from heat. Beat eggs, yolks and sugar with an electric mixer on high speed in a deep bowl, 8 minutes, until thick and pale. Whisk chocolate mixture into egg mixture. Whisk in flour.
Pour batter into ramekins. Place on baking sheet and bake 14 minutes, or until cakes have risen and have a thin crust, sides are set and cakes are slightly jiggly in the center; under baking is better than over baking.
Carefully invert each cake onto a serving plate and let sit 20 seconds. Unmold by lifting up one corner of mold; cake will fall onto plate. Dust tops with confectioners' sugar and serve immediately.