Individual Mini Cherry Cheesecake Cups
GaylaJ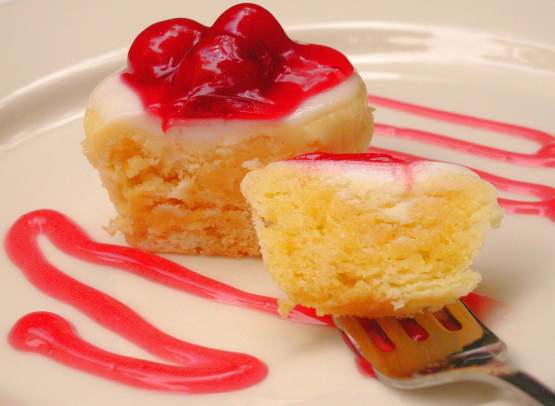 My friend Robyn gave me this recipe a few years back. They're excellent to bring to holiday gatherings.

This is a decadent dessert in a diet-friendly size (but try eating just one)! We loved this recipe, especially my husband. I used a chocolate cake mix and decided to leave off the cherries. I was also out of sour cream, so I left off the topping. I have only one regular-size muffin tin, so I used a min-muffin tin for the remaining mixture, baking that tin just over 10 minutes. Next time I'll make sure I have sour cream for the topping (and a second regular-sized muffin tin). I also think I'll make the chocolate crust and top with a little orange marmelade.
Preheat oven to 350.
Place 2 1/2 inch paper or foil liners in 24 muffin cups.
For crust, combine dry cake mix and melted butter in large bowl.
Beat at a low speed with an electric mixer for one minute (mixture will be crumbly).
Divide mixture evenly in muffin cups (level but do not press).
For filling, combine cream cheese, eggs, 3/4 cup sugar and vanilla extract in a medium bowl.
Beat at medium speed with an electric mixer until smooth.
spoon evenly into muffin cups.
Bake at 350 for 20 minutes or until mixture is set.
For topping, combine sour cream and 1/4 cup sugar in a small bowl.
Spoon evenly over cheesecakes.
Return to oven for 5 minutes.
Let cool for 15 minutes.
Garnish each cheesecake with cherry pie filling.
Refrigerate until ready to serve.