Individual Dilled Salmon Pizzas
ImPat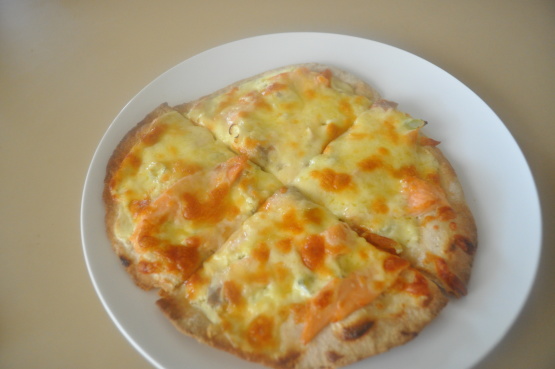 A tasty meal for you and your kids will like it too! This takes no time to make and you can use canned salmon if you want, but fresh salmon is definitely best. You can use whole wheat pitas and low fat ingredients or not! If you don't have fresh parmesan, don't bother using it because the flavor of the dry version won't come through.

Top Review by ImPat
Simple to make for a quick lunch and absolutely delicious. I used a wholemeal/wholegrain lebanese bread (had run out of pitas) and a light sour cream and dried dill and omited the pimientos using spring onion from the garden and a mixed pregrated cheese of mozzarella, cheddar and parmesan and the salmon had been smoked and was thinly sliced. The DM and I thoroughly enjoyed and woe to go in 15 minutes made it a very quick and filling lunch. Thank you Nif made for Went to Market.
Preheat oven to 400°F.
Cook salmon fillets your favourite way. You can heat oil in a frying pan and cook until lightly browned and just barely cooked through. You can also broil, poach or grill the salmon, whichever you prefer. Just remember to salt and pepper to taste. Break apart into semi-large chunks when cooked.
Meanwhile, mix sour cream, lemon juice, green onion and dill. Spread a quarter of the mixture on each pita. Sprinkle evenly with pimentos and cooked salmon.
Sprinkle with parmesan and then mozzarella. Cook directly on rack for about 10 minutes or until lightly browned. By cooking the pita right on the rack, it will crisp up and not get soggy from the toppings.
Let cool for 5 minutes and then cut and serve!