Individual Blueberry Cobblers
seesko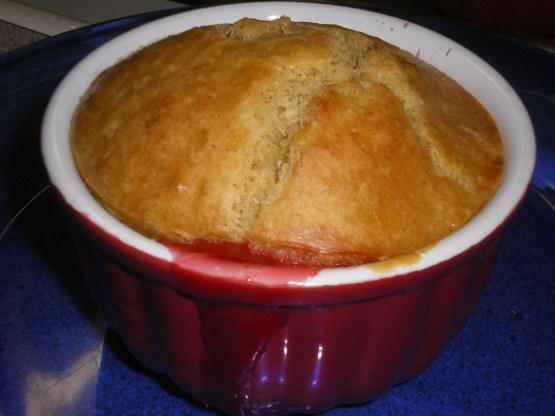 As easy to make as they are delicious! One of my favorite summer treats using fresh Maine blueberries, from My Great Recipes.

I was looking for a recipe for a cobbler topping that contained milk and eggs, and decided to give this one a try. VERY glad I did. The topping was just the texture and flavor I was looking for (I did add a little cinnamon by request of my dinner guests). Ended up making way more fruit mixture than I needed for 4 custard cups - I was using frozen strawberries, blackberries, raspberries, AND blueberries and got carried away... :). So I ended up making everything in an 8x8 cake pan. I sort of just plopped the dough on top and baked a bit longer to accommodate the larger size and it turned out PERFECT. Thank you for sharing!! ... Edited to say - I used ALL brown sugar where white sugar was called for, just a personal preference when baking.
Pick over and wash berries. Place in saucepan with 1/4 cup sugar, lemon rind and water.
Bring to a boil and simmer for 5 minutes. Pour equal amounts into 4 greased tart pans.
Cream butter, 1/3 cup sugar, egg and vanilla until well blended.
Mix flour, baking powder, salt and nutmeg. Add to creamed mixture along with the milk. Beat until smooth. Spoon batter over hot blueberries.
Bake at 375° for about 30 minutes or until browned. Serve warm, plain or with ice cream (family favorite) or whipped cream.