awalde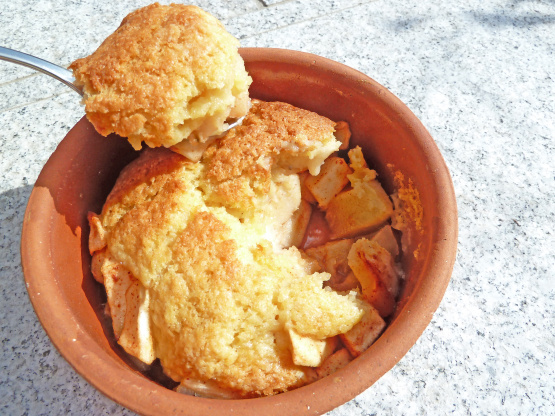 This cobbler is super easy and serves 2-4 people.

I need just a little something for dessert last night and I whipped this up (it takes maybe 5 minutes to prepare) and it was absolutely delicious. Will definitely make this one again! My ramkeins were a little smaller, so I needed less than a cup, but other than that, I followed the recipe as-is.
Gently toss the apples, brown sugar, lemon juice, and cinnamon. Divide between two greased 10 oz custard cups or four 5 oz ramikens.
In a bowl combine flour, sugar, and baking powder; stir in milk and butter - just until moistened. Spoon over apples.
Sprinkle with sugar and cinnamon, if desired for a whole different look and slightly sweet flavor.
Bake at 400 degrees for 20 min or until the top is goldern brown. Serve with cream if desired.