Indigo's Ridiculously Good Tuna (Salad!)
iris5555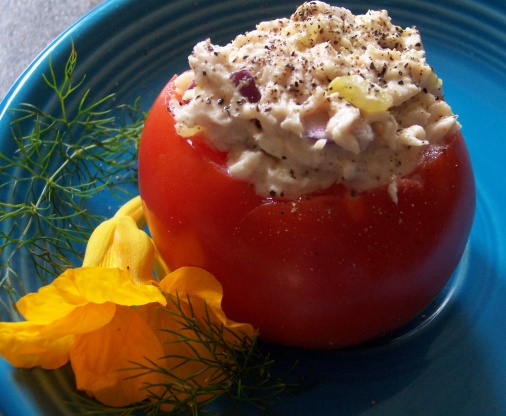 My obsession with tuna really started at Tealuxe, the nummiest teahouse in Boston! This is my own special recipe; I really think the flavors are strong and the texture is satisfying. *Please note, the amount of mayo could be much more or less to taste, I really just throw in as much creaminess as I feel for at the time... You can eat it alone, in a pita, or like a tuna melt, it is too good!
1

(12 ounce) can tuna, drained
1⁄2 cup onion, finely chopped (white, yellow, vidalia, your choice, (to taste)

3 -4

tablespoons mayonnaise, to taste

2

tablespoons dill pickle relish, to taste

1

tablespoon horseradish sauce (I use HOT!)

1

teaspoon cayenne, to taste

1

teaspoon ground black pepper, to taste
1⁄3 teaspoon salt, to taste

3 -4

teaspoons dill (optional)
Mix all ingredients.
Chill about 20 minutes. Or, if, like me, you can't wait for tuna delicousness, dig right in!