If you like it cool and spicy, this is a great marinade for chicken, lamb or firm white fish. This marinade recipe makes enough for 2lb of meat, chicken or fish. Marinate red meat or poultry for 2 hours at room temp or 24-48 hours in the fridge. Marinate fish for 30 mins at room temp or 2 hours in the fridge.
Directions
Mix all the ingredients together and use as required.
Most Helpful
Since we are vegetarians, we used substitute beef strips for real meat or fish. I left this out of the fridge for 1 hour to marinade. I had to omit the turmeric, because I had run out of it without realizing. Otherwise, made with 2% Greek yogurt. Other than that, no substantive changes. I think this is basically a tandori oven marinade, and as such it is outstanding! BF really enjoyed it too. Thanks very much :)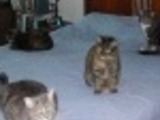 A flavorful dairy marinade. I marinated chunks of chicken breast overnight, sauteed them in oil, and cooked over low heat until tender. I think this marinade would also work well with grilled chicken.

This was so good! I made a half batch of this to marinate 2 bone in skinless chicken thighs including the legs. I used Balkan (thick) yogurt, a little less turmeric per preference and also less cayenne as we don't like too spicy. I used sea salt for the salt and following Sydney Mike's review baked mine in a 350 oven (Mine tends to be extra hot) for approximately 45 minutes after drizzling with olive oil and a small sprinkle of additional sea salt. I served this on a bed of Recipe #415229, with raita and a fresh salad for a good meal. I may make this again if craving tandoori style chicken as the taste was quite authentic. Thanks English_Rose. Made for ZWT6 Asian region, for my Team The Ya Ya Cookerhood.