Food.com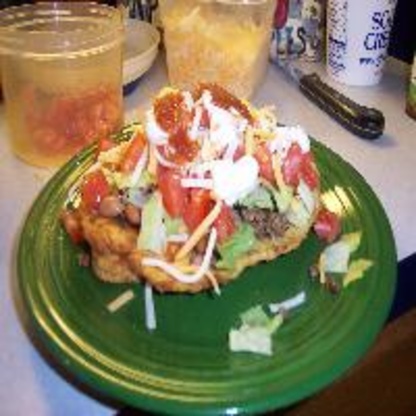 I love these tacos. So does all of my family, which is amazing because there is always somebody who doesn't like what I have cooked.Not the case with these tacos. Make sure and be really careful when cooking the fry bread. I always eat it because it is sooooo goooood.

These were a good change of pace from the usual tacos and burritos.
Combine meat, onion, salt, pepper and Tabasco in a skillet; brown.
Cover and let simmer while making fry bread.
---------Fry bread (Directions) ----------------.
Beat eggs; add milk.
Stir in baking powder, flour, salt; mix well.
Roll out very thin on a floured board.
Cut into desired shapes.
Cut a slash in center of each.
Fry in oil until brown.
Drain on paper towels.
These are crisp tacos.
When fry bread is done, layer with meat, beans, cheese, lettuce and tomatoes. Enjoy!