2Bleu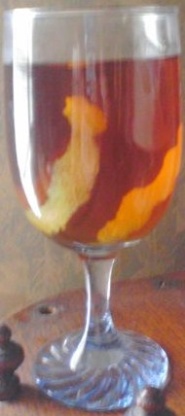 From the Platinum Hotel and Spa in Las Vegas. Found the recipe in the Southwest Airlines magazine. I haven't tried it but allegedly it "tastes like chilled apple cider mixed with pumpkin pie spices...crisp and refreshing." Can use spiced cider mix in place of the mulling spices.
Pour mulling spices/spiced cider mix into a saucer. Run the lemon wedge around the rim of a chilled martini glass to moisten. Turn the class upside down, rotate its rim through the spices, then turn the glass right-side up.
Twist the orange spiral over the glass to release the oils from the orange skin, set the spiral aside, then add the bitters.
In a shaker half-filled with cracked ice; combine the rum, vodka and cider. Shake well and strain into the martini galss.
Garnish the glass with the orange spiral.
If desired add a light squeeze from the lemon wedge.
Makes one 6-ounce Indian Summer.