Indian Style Shrimp and Scallop Skewers
Derf2440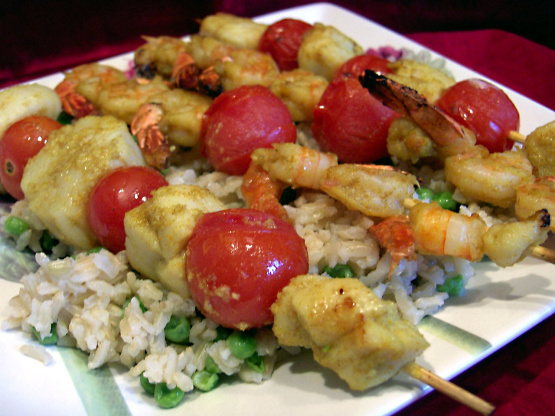 Another tast BBQ recipe from Womans Day. This is so refreshing and tasty. I love it served with pilaf and grilled pitas. Prep time includes marinade time.

What a wonderful punch to simple seafood. For dietary reasons, I did cut back on the oil to one tbsp and then tossed the seafood to coat. I then mixed the seasonings together and used them more or less like a rub and let the shrimp & scallops marinate as instucted. Simple and sublime. Thank you Michelle S. for sharing the recipe.
Whisk oil and spices in a large bowl until blended.
Add shrimp and scallops and toss gently to coat.
Cover and refrigerate 2 to 3 hours to let seafood absorb marinade flavors.
Thread shrimp and scallops on seperate skewers.
Oil grill rack and place it 4 to 6 inches above hot coals.
Grill skewers 2 to 3 minutes per side until seafood is lightly browned and just barely opaque in the center.