Indian Style Omelet-my Mom's Version
Bergy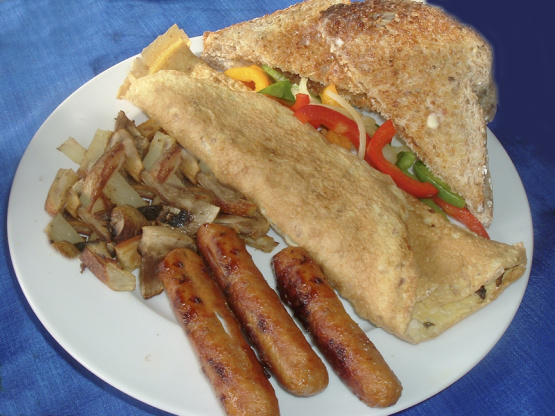 My mom invented this recipe many years ago and it is great to eat for breakfast, or with rice. I like to eat it with ketchup. My son always wants more!
2

eggs
1⁄4 cup chopped red onions or 1⁄4 cup white onion

2

tablespoons desiccated coconut
1⁄2 teaspoon dried crushed red pepper flakes (the amount is up to you)

2

tablespoons water

2

teaspoons oil or 2 teaspoons cooking spray
Preheat a small nonstick skillet and spread lightly with oil.
In a small bowl, whip the eggs, Add 2 Tablespoons water and whip until fluffy.
Add in coconut, onion, red chili flakes and salt to taste.
Continue to mix until all ingredients are blended.
As soon as the skillet is hot, pour in the egg mixture. Cook as you would a traditional omelet, making sure that the underside is browned.
Flip over and continue cooking until the omelet is well done.
Serve hot and enjoy!