Indian Style Mushrooms in a Tomato Sauce
katew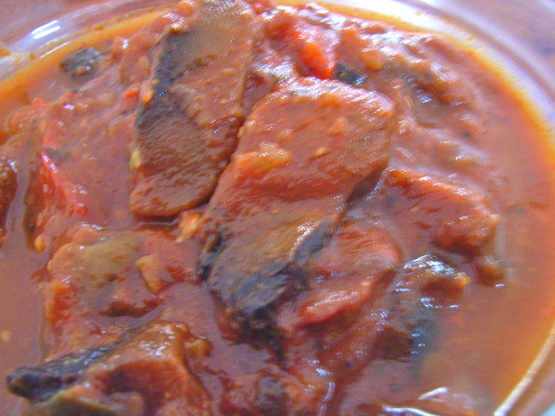 Another recipe to serve as a side for an Indian meal. Vegetarian and gluten-free. Posting for ZWT

Top Review by katew
I wrote a review and it has vanished !! So once again this is a fab, versatile recipe and goes with rice, pasta, on toast, with quinoa - anything really ! i give 10 stars for tastiness and versatility. I did add a half a sad, chopped red pepper that was loitering in the fridge. Made for ZWT8.
Heat the oil in a medium sized saucepan over a medium heat.
Add the chopped onion and chilli and cook, stirring frequently, for 5-6 minutes. The onion should be soft but not browned.
Add the garlic and cook for a further 2 minutes.
Add the cumin, coriander and chilli powder and cook, stirring, for one minute.
Add the mushrooms, salt and tomato puree. Stir until all ingredients are thoroughly blended.
Sprinkle the water evenly over the mushrooms and reduce the heat to low.
Cover and cook for 10 minutes, stirring halfway through.
The sauce should have thickened, but if it appears runny, cook, uncovered, for 3-4 minutes, or until you achieve the desired consistency.
Transfer to a serving dish, sprinkle with the snipped chives and serve.