loof751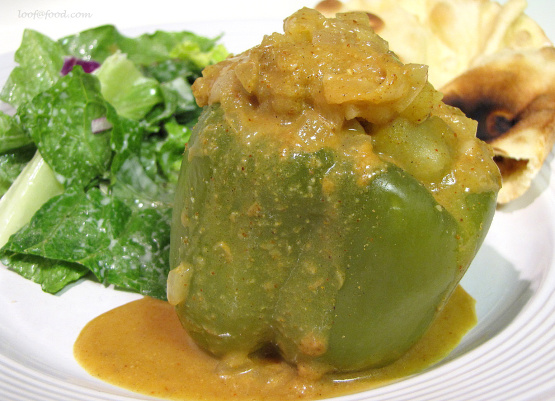 A "special occasion" dish in India. Use small bell peppers. Red or yellow peppers can also be used, or for a more colorful dish, a mixture of them.

We really enjoyed these unusual and tasty stuffed peppers! The potato filling was delicious on its own but the sauce really brought this to another level. I used 1/2 tsp ground cardamom for the pods and used light coconut milk with excellent results. Thanks for sharing a great recipe!
Cook potatoes in a saucepan of simmering water for 15 minutes, or until tender, then drain and cut into small cubes.
Bring a large pan of water to a boil and add peppers and blanch for 5 minutes. Drain and run cold water over peppers. Cut around the stems and remove stems and seeds. Drain well upside down on paper towel.
Heat oil in a small frying pan and cook onions over medium heat until soft but not browned. Add coriander, cumin, turmeric and chili powder and mix thoroughly. Mix in the potatoes and season with salt, to taste. Fill each pepper with equal amounts of mixture.
To make the sauce, combine all of the sauce ingredients (except salt) in a deep, heavy-bottomed frying pan and bring slowly to a boil. Reduce heat to low, cover and simmer 15 minutes. Remove cinnamon stick and cardamom pods. Season sauce with salt, to taste.
Add stuffed peppers to the pan, arranging them so that they stand upright in a single layer, and cook 5-10 minutes, or until sauce is thick and peppers are heated through. Serve peppers with sauce spooned over the tops.