JustJanS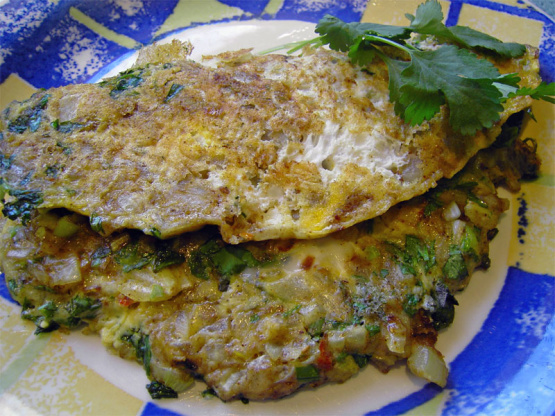 This is one of the best omelets you get from vendors on the streets to have between bread slices with maybe some ketchup and green chutney applied to each slice. Have a bite of our street cuisine.

We left out the chilies and mint but otherwise made as directed and the omelet was incredible! I can always count on Indian cuisine for simple, unbelievably tasty food and this recipe did not disappoint!
Heat the oil in frying pan (I use a non stick pan) and fry the onion, chilli, ginger, garlic until translucent.
Add turmeric and saute for a minute more.
Add the other spices and cook for a few minutes more stirring now and then.
Take them off the flame.
Beat the eggs lightly and add salt to taste.
Now add the cooked mix to the eggs.
Add the green leaves chopped, (cilantro and mint).
Now add it back to the pan which will have some grease in it.
Cook for a few minutes and then flip over after sprinkling some lemon drops on the first side.
You can also place this under a grill to do the second side.
This goes very well with chapatis/ rotis too.
N.
B.
You can add mushrooms/ carrots/ spinach/ tomatoes to the mix while it is cooking.