Bonnie G 2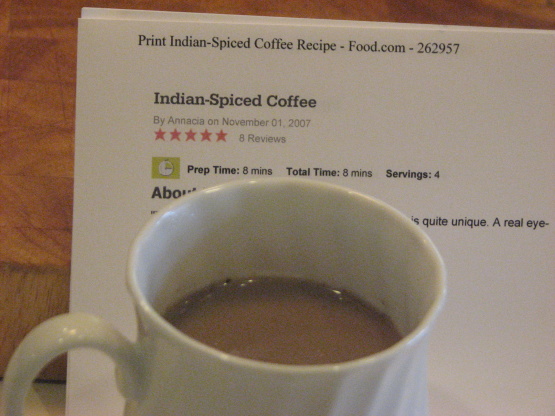 This recipe contains spices common to chai, yet is quite unique. A real eye-opener to kick start your morning.

Being the coffee lover that I am I was really excited to try this recipe. It works out so well. I used a dark roasted Sumatran coffee bean and made sure I brewed it a bit stronger than usual. With that and the addition of these wonderful spices (especially love the nutmeg!) and using 2% milk worked out to be a very enjoyable beverage. I love chai tea and love coffee more so this allows me the best of both hot beverage worlds! Thanks Annacia. Found and made during ZWT8.
In a medium-size pot, bring water to a boil.
Stir in the spices, cover, and simmer over low heat for 5 minutes.
Stir in the pre-brewed coffee.
Meanwhile, in a saucepan, heat milk until almost boiling.
Strain the coffee through a fine mesh strainer covered with cheesecloth into the milk.
Add sweetener, stir, and serve in mugs.