Indian Restaurant Style Onion Bhaji - Deep Fried Onion Fritters
Kathy228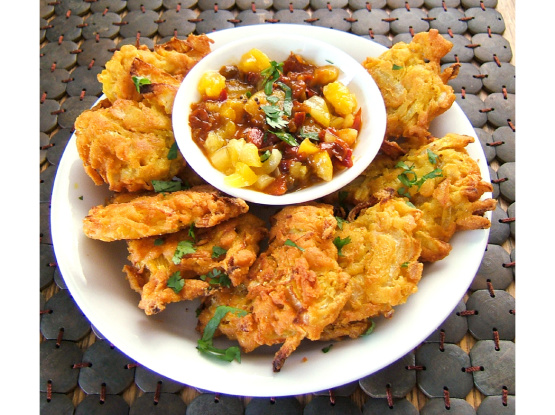 An absolute must as an accompaniment to curry or wonderful as a starter for an Indian meal. Onion Bhajis are tasty little onion balls bound together with lightly spiced and fragrant chickpea flour batter. Serve these with coriander chutney or cucumber raita. You will ALWAYS be offered these on any British Indian restaurant menu; they also make great snacks if served with salad and assorted chutneys and spicy dips. You can lighten these up a little bit by frying them, and then allowing them to drain over a wire rack before reheating them in a medium to hot oven for about 3 to 5 minutes.

So good! Love all the spice. May add a little more water next time as I wasn't sure about the batter. Went great before having Mulligatawny soup.
Put the vegetable oil into a large pan and heat over a medium to high heat.
Make the batter: In a large bowl, add the chickpea flour, baking powder, rice flour, turmeric, black onion seeds, chili powder, cumin, coriander, salt and the water. Mix together well and then add the sliced onion - mix the onion through until well coated.
Check the temperature of the oil by dropping a small cube of bread in - it should brown fairly slowly - not burn or go dark brown straight away.
Carefully drop spoons of the bhaji batter in to the oil, do NOT overcrowd as they will stick together. Fry them in small batches for 1 to 2 minutes until they are a golden brown and crispy. Remove them with a slotted spoon and allow them to drain on a paper covered plate in a warm oven.
Repeat until all the bhaji batter is finished and they are all cooked.
Sprinkle over a little salt and serve straight away with coriander chutney or cucumber raita.